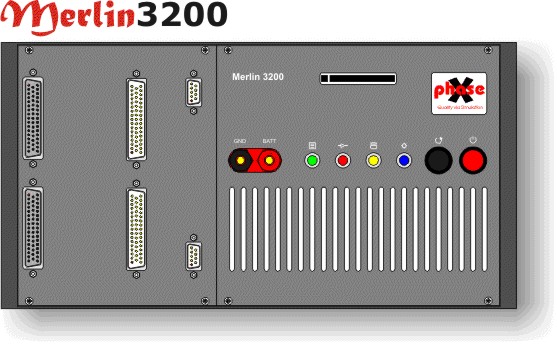 Hardware-in-the-Loop
"High density, robust automotive grade I/O coupled with a high performance real time operating system."
Merlin3200 features:
Analog Outputs:

24 12Bit Channels

0-5V Rail-to-Rail at 80mA

0-12V Rail-to-Rail at 80mA

Pattern Table

Protected

Analog Inputs:

24 12Bit Channels

0-5V

0-12V

Protected

Digital Inputs/Outputs:

Discrete Mode

PWM Mode

Frequency Mode

Pulse Mode

Pattern Table

Protected

RS485:

8 Channels

20MBit/Sec

Protected

Relays:

8 Channels

2 Amp SPDT

Protected

CAN:

2 Channels

1MBit/Sec

SJA1000

Galvanic Isolation
The Merlin3200 is a cost effective, real time, high density Hardware-in-the-Loop controller designed specifically for Automotive applications. All inputs and outputs are fully protected to meet the robustness demands of our customers. Because Automotive I/O requirements are extremely demanding, PhaseX™ has developed a state-of-the-art controller that no Commercial Off The Shelf technology (COTS) can match. The Merlin3200 incorporates the standard analog and digital I/O functionality. However, it has been enhanced to generate application specific signals for ABS and Engine Management systems. Moreover, the Merlin3200 includes high speed serial channels for logging and monitoring internal controller variables. In addition, dual CAN channels are provided to interface to vehicle networks.
The Merlin3200 is also compact. In anticipation of customer needs and convenience, we have incorporated a test point panel to access all I/O channels. A daughter board can even be plugged into the test point panel for application specific needs.